Nabil Wahhab
Nabil is one of the leading family law specialists in Sydney
Nabil Wahhab is an Accredited Specialist in Family Law.
Nabil has practised exclusively in Family Law for nearly 25 years.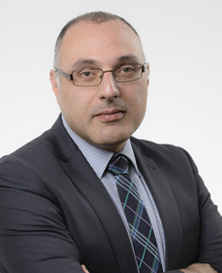 A graduate of Macquarie University with an Honours degree in Law and Economics (majoring in Finance), Nabil's expertise is in advising and representing clients on complex financial matters involving trusts and companies. He has an impressive track record of representing the interests of a wide range of high net worth individuals as well as third parties in complex property settlements. He has acted in some of the largest cases determined by the Family Court.
Nabil acted for the husband in the first superannuation splitting case determined by the Family Court. He acted for the wife in the largest lump sum spouse maintenance ever granted to a wife in the Family Court. He regularly acts for very wealthy clients and third parties whose rights are or may be affected by the Family Court process.
Nabil is a trained mediator. Nabil is on the panel of Independent Children's Lawyers, who represent children in Family Law matters. He is also a Member of the Family Law Section of the Law Council of Australia.
In 2011 and 2012 Nabil was a Member of the Family Law Issues Committee of the Law Society of NSW which body advises the Law Society on family law developments and prepares submissions which ultimately are made to the State and Federal Government on changes to Family Law.
Nabil regularly writes articles and papers and delivers presentations on family law. For the last 6 years he has written and updated a Chapter in the Australian Master Financial Planning Guide published by CCH, the Chapter title "Financial and Estate Planning on Family Breakdown". Nabil has published many articles in Money Management and is regularly quoted in articles in the Sydney Morning Herald. Nabil is also sought for radio interviews. He has given interviews on family law issues to ABC Radio and more recently 2US, Business Report on 2UE.
Nabil is one of the leading family law specialists in Sydney.
Nabil and York Law have again been endorsed by the Doyles Guide in 2018 for being leading Family & Divorce Lawyer and Firm; Leading Parenting & Children's Matters Lawyers in NSW; and Leading firm in High & Complex Property Matters.
Nabil strives to be the best family law lawyer in Australia.
Knowledge. Insight. Experience. The LAW YORK Difference.